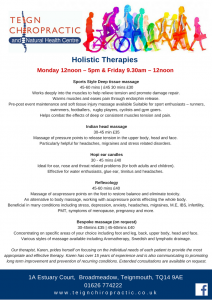 at Teign Chiropractic Clinic
Our Therapist, Karen offers a range of treatment and is available here on:
Monday's 12noon – 5pm and Friday's 9.30am – 12noon
(Click image to the right to download leaflet)
Sports Style Deep tissue massage
45-60 mins – £45 | 30 mins – £30
Works deeply into the muscles to help relieve tension and promote damage repair
Warms muscles and eases pain through endorphin release
Pre-post event maintenance and soft tissue injury massage available
Suitable for sport enthusiasts – runners, swimmers, footballers,  rugby players, cyclists and gym goers
Helps combat the effects of deep or consistent muscles tension and pain
Indian head massage
30-45 min – £35
Massage of pressure points to release tension in the upper body, head and face
Particularly helpful for headaches, migraines and stress related disorders
Hopi ear candles
30 – 45 mins – £40
Ideal for ear, nose and throat related problems (for both adults and children)
Effective for water enthusiasts, glue ear, tinnitus and headaches
Reflexology
45-60 mins – £40
Massage of acupressure points on the feet to restore balance and eliminate toxicity
An alternative to body massage, working with acupressure points effecting the whole body
Beneficial in many conditions including stress, depression, anxiety, headaches, migraines, M.E, IBS, infertility, PMT, symptoms of menopause, pregnancy and more.
Bespoke massage (on request)  
30-45mins – £35 |  45-60 mins – £40
Concentrating on specific areas of your choice including foot and leg, back, upper body, head and face
Various styles of massage available including Aromatherapy, Swedish and lymphatic drainage.
Karen prides herself on focusing on the individual needs of each patient to provide the most appropriate and effective therapy. She has over 15 years of experience and is also communicating to promoting long term improvement and prevention of recurring conditions. Extended consultations are available on request.
Karen works from our Teign Clinic – 1A Estuary Court,  Broadmeadow, Teignmouth, TQ14 9AE
To book an appointment or for more details, please call: 01626 774222